Back To News
June 2, 2023
Bell Partners Wins 2023 Community Impact Award from HOOPP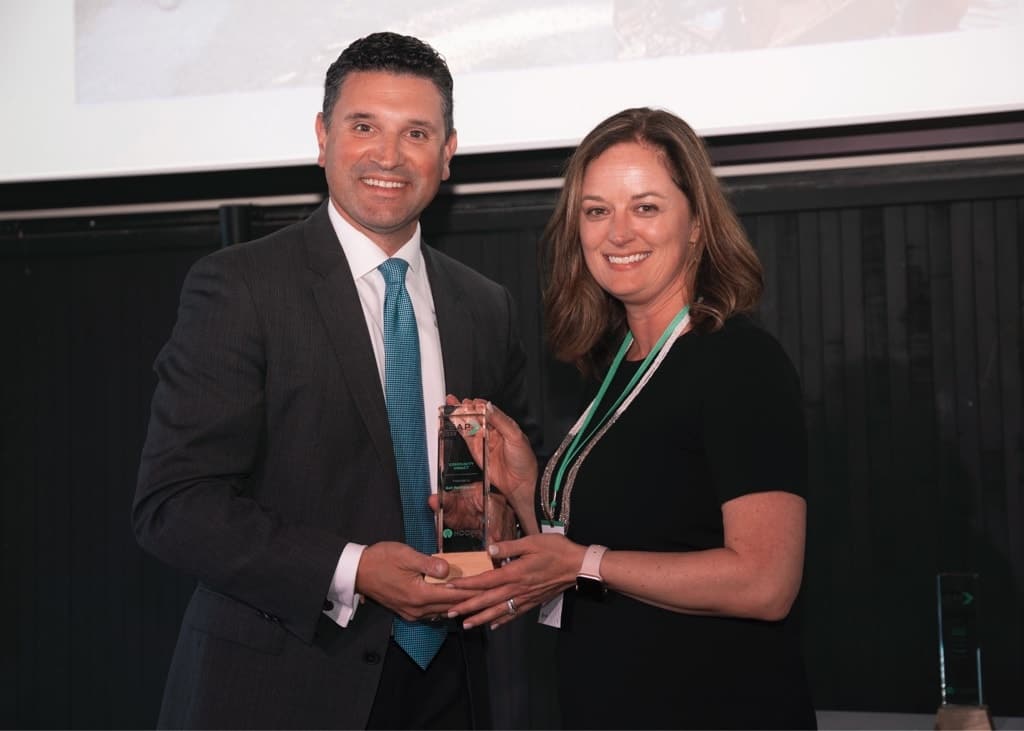 Bell Partners is pleased to share that it was awarded the 2023 LEAP Community Impact Award by the Healthcare of Ontario Pension Plan ("HOOPP") on May 31st in Toronto. Katie Manley, VP of Operations Support and ESG, accepted the award for Bell Partners from Eric Plesman, HOOPP Senior Managing Director & Head of Global Real Estate.
The 12th annual LEAP awards recognize property managers within HOOPP's real estate portfolio who are prioritizing sustainability efforts. This year's LEAP Community Impact Award honors Bell Partners' work with Move for Hunger, an organization that creates a sustainable way of reducing food waste and fighting hunger across North America, and six other organizations located in Bell markets also dedicated to fighting hunger. Integrating one of our core values, "Serve Somebody", Bell Partners property teams organized community food drives, participated in awareness campaigns and created employee engagement programs. In 2022, our teams and residents volunteered 800 hours packing and preparing food, resulting in the donation of over 3,000 pounds of food and over 10,000 meals for families in need.
Bell Partners remains committed to creating positive change in the communities it serves through the adoption of sustainable practices and innovative initiatives. Thank you to HOOPP for recognizing our commitment to engagement, education, and innovation in our efforts toward environmental responsibility and giving back to our communities.
For more information and the full award list, visit the link below.
https://hoopp.com/en/newsroom-details/hoopp-honours-real-estate-sustainability-achievements-at-2023-leap-awards