Back To News
July 24, 2023
Bell Partners Acquires Two Multifamily Communities for Two Separate Funds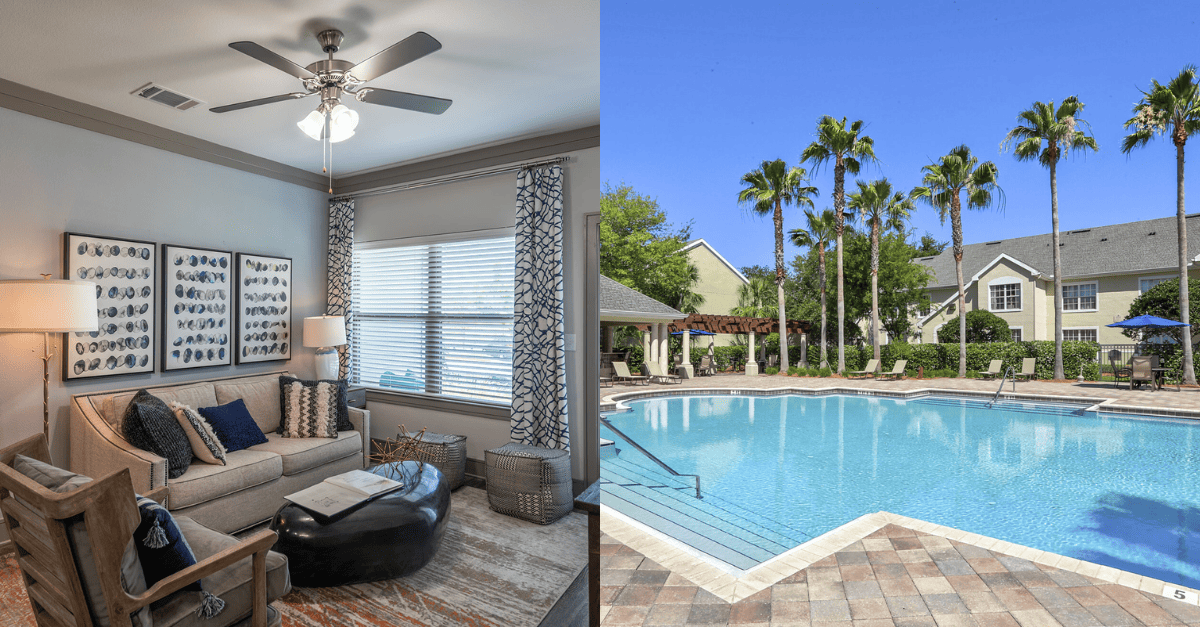 First acquisition for new Value-Add Fund VIII and a separate acquisition for Core venture
GREENSBORO, N.C., July 24, 2023 /PRNewswire/ — Bell Partners (the "Company"), one of the nation's leading apartment investment and management companies, today announced it has acquired Lansbrook Village, a 774-unit apartment community located in Palm Harbor, Florida. In a separate transaction, the Company also announced it has acquired Presidio East, a 312-unit apartment building in Fort Worth, Texas. Lansbrook Village was acquired on behalf of Bell Value-Add Fund VIII investors and will be renamed Bell Lansbrook Village. Presidio East was acquired on behalf of Bell Core Fund I investors and will be renamed Bell Presidio.
"By leveraging our local market knowledge and differentiated deal flow, we have acquired two properties in quality locations that, with careful underwriting and a disciplined approach to risk management, can each provide attractive returns to our investors," said Nickolay Bochilo, EVP of Investments at Bell Partners. "Bell Lansbrook Village is our first acquisition for Value-Add Fund VIII and offers the ability to immediately create value through renovations and enhanced management practices. Bell Presidio is well-suited for our Core Fund I venture as it provides a stable performance history in a location with attractive growth prospects."
Completed in several phases between 1998 and 2004, Bell Lansbrook Village is a low-density community with direct entry, townhome style units in one, two, three, and four-bedroom floor plans. The 85-acre property boasts a range of high-quality amenities, including three pools, tennis courts, a fitness center, and a pet park. The property's location offers convenient commuter access to downtown Tampa and downtown St. Petersburg. Ample retail and dining locations, beaches, an 18-hole championship golf course, and walking trails are all within minutes of the property.
Completed in 2017, Bell Presidio is a low-density community with modern interior finishes and an attractive unit mix of larger floorplans providing desirable options to a wide range of prospective residents. Amenities include a two-story fitness center and a large saltwater pool. The property is located in North Fort Worth near Alliance Town Center, top-ranked schools, and major employment centers including the Alliance Texas global logistics hub.
About Bell Partners Inc.
Established in 1976, Bell Partners Inc. is a privately held apartment investment and management company focused on quality multifamily rental communities throughout the United States. The Company manages more than 85,000 apartment homes in markets across the U.S., including communities in the San Francisco Bay Area, Southern California, Washington, Texas, Colorado, the Southeast, Washington D.C., and Boston. The company broadened its footprint into the western U.S. in recent years and has added over 10,400 apartment homes to its management portfolio over the last 12 months. With over 2,000 associates and nine offices, Bell Partners offers an extensive full-service vertically integrated national platform of expertise in acquisitions and dispositions, construction, financing, property operations, accounting, risk management, and related support functions. Led by a senior management team with an average of 20+ years of experience navigating marketing cycles, Bell Partners has invested throughout all phases of the real estate cycle and has completed over $18 billion of apartment transactions since 2002. With a focus on the customer, Bell pairs its corporate infrastructure with a deep local presence to drive performance. For more information, visit bellpartnersinc.com.