Back To News
April 25, 2017
Bell Partners, the Davis Companies, Woodfield and Arsenal Complete Sale of Alexandria, VA Property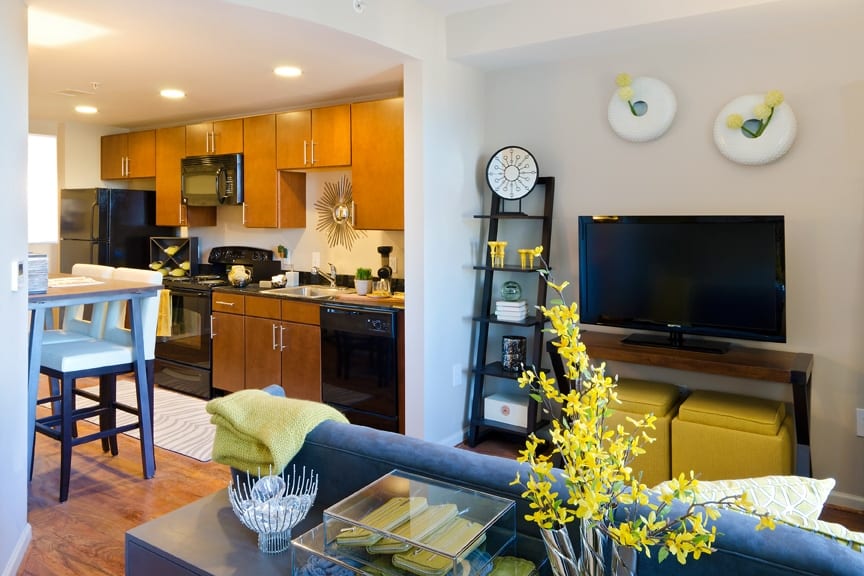 GREENSBORO, N.C. (April 25, 2017) — Bell Partners Inc., one of the nation's leading apartment investment and management companies announced on behalf of its joint-venture partners that they have completed the sale of Bell Del Ray in Alexandria, Virginia. The partnership included The Davis Companies (TDC), an integrated real estate investment, development and management firm, Woodfield Investments, LLC, and Arsenal Real Estate Partners. The terms of the sale were not disclosed.
The Bell Del Ray apartments broke ground in 2012 and construction was completed in 2014, with lease-up beginning that year. Woodfield Investments was the lead developer of the community; Bell Fund IV and Davis Investment Ventures Fund I were the primary investors.
Bell Del Ray contains 276 luxury apartment units with structured parking and 3,480 square-feet of ground floor retail space. The complex contains a mix of one, two and three-bedroom apartment homes averaging 846 square-feet. The community is located in the highly desirable, family friendly Potomac Yard Master Development area, near the Metro DC Beltway, between major employment centers for Alexandria, Arlington and the District.
Nickolay Bochilo, SVP Investments, Bell Partners, said, "Bell Del Ray is an excellent asset and a product of several years of hard work by the partnership that developed it. We are pleased with the investment results for our Fund."
During 2016, Bell completed nearly $1.3 billion in total apartment transactions.  To date this year, Bell has completed approximately $256 million in total apartment transactions.
Jonathan G. Davis, Founder and CEO of The Davis Companies said, "This sale represents the culmination of the efforts of a talented partnership – Arsenal Woodfield's aptitude for conceiving and developing the class-A apartments, combined with Bell Partners' operational expertise, and our experience at The Davis Companies in multifamily investment are a testament to what excellent teamwork can achieve."

About Bell Partners Inc.
Established in 1976, Bell Partners Inc. ("Bell Partners" or the "Company") is a privately held, vertically integrated apartment investment and management company focused on high-quality multifamily communities throughout the United States. With approximately 60,000 units under management, Bell Partners is the 15th largest apartment operator in the United States (according to The National Multi-Housing Council, 2017) and one of the largest renovators in the country. The Company has over 1,600 associates and 7 offices (including its headquarters in Greensboro, N.C.) and offers an extensive and full service platform containing expertise in acquisitions and dispositions, financing, property operations, accounting, risk management and all other related support functions. Bell Partners is led by a senior management team with an average of over 20 years of experience that has invested throughout all phases of the real estate cycle and has helped the Company complete over $12 billion of apartment transactions since 2002, including nearly $1.3 billion in 2016 transactions. For more information, visit our website at www.bellpartnersinc.com.

About  The Davis Companies
Committed to excellence in both investment performance and operations, The Davis Companies is an integrated real estate investment, development and management firm headquartered in Boston that has invested more than $4 billion in gross asset value through real estate equity, debt and fixed-income securities. A unique combination of capital markets, development and management expertise allows The Davis Companies to nimbly tackle complex and contrarian opportunities. Directly, and with its valued partners, The Davis Companies currently owns a real estate portfolio of approximately 12 million square feet across the Eastern United States.

About Woodfield Investments, LLC
Woodfield Investments is a premier developer and operator of Class A multifamily communities in the Mid-Atlantic and Southeastern United States. The partners in Woodfield share a depth of experience in development, asset management and real estate capital markets. Since the formation of the company in 2005, Woodfield has completed 39 communities, has 9 communities under construction, and 8 projects at various stages of entitlement and design.  From the first development and each one thereafter, the singular goal has been to deliver well-conceived, thoughtfully designed, market supported projects. With a track record that stands alone, Woodfield Investments sets out to assemble the best team of designers, consultants, architects, contractors and capital sources.

CONTACTS:
Kevin Thompson
Phone: 336.232.1993
Email: bkthompson@bellpartnersinc.com
Laurenn Wolpoff
Phone: 917.518.9011
Email: lwolpoff@prosek.com
Lauren Michaels
Phone: 617.933.5014
Email: lmichaels@solomonmccown.com