Back To News
January 3, 2017
Bell Partners and Hansinvest Acquire Apartment Community in Metro Atlanta Area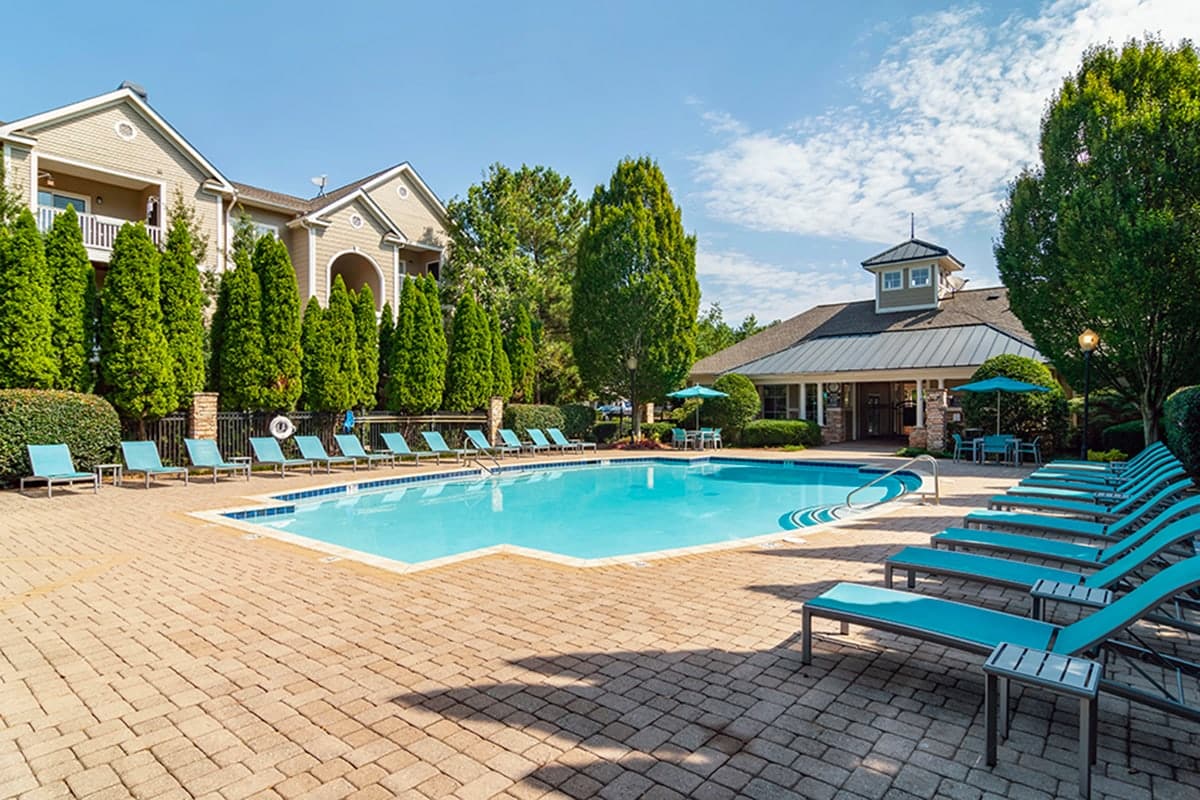 GREENSBORO, N.C.; Hamburg, Germany — Bell Partners Inc., one of the nation's leading apartment investment and management companies, and HANSAINVEST, a one of the largest German investment management companies, announced today that, through their joint real estate partnership, they have acquired Indigo House, a 180-unit community near Atlanta, Georgia. The transaction is the first asset acquired pursuant to the previously announced partnership agreement between Bell and HANSAINVEST's HANSA US Residential Fund.  The Fund is focused on providing institutional investors with opportunities to invest in core residential properties in the U.S.
Indigo House has been renamed Bell Glenridge and will be managed by Bell Partners.  The community, completed in 2015, is located in Sandy Springs, Georgia, one of Atlanta's most desirable urban submarkets. The property boasts an unsurpassed location with proximity to the "Pill Hill" medical complex, the Central Perimeter and Buckhead office submarkets, major transportation arteries, and upscale shopping and restaurants.
The gated community offers a 6-story structured parking deck with 321 resident parking spaces.  The one and two bedroom floor plans average 889 square feet.  The kitchens have islands with white quartz countertops, custom cabinetry, tiled backsplashes, premium goose-neck faucets and stainless steel appliances.  All units have plank flooring, full-size washers/dryers and spacious walk-in closets.  Bathrooms include Roman tubs and tiled floors.  Select units offer floor-to-ceiling windows, dual vanity bathroom sinks and stand-up showers.
Common area amenities include a clubroom with catering kitchen, fireplace, pool table and poker table; as well as a large fitness facility with Spin/Yoga Room, onsite fitness trainer, and 24-hr digital training via Fitness on Demand.  Exterior amenities include a resort-style, heated salt-water pool with outdoor fire-pit and convenient poolside grilling station.
According to Nicholas Brinckmann, managing director of HANSAINVEST Real Assets: "HANSAINVEST is pleased to collaborate on this distinguished first transaction with Bell Partners and we look forward to many similar investment opportunities in the US in 2017.  Bell is an excellent partner with a proven track record that we believe will continue to provide our investors with above market returns in the years to come."
Joseph Cannon, Senior Vice President, Investments, adds: "Bell Glenridge is a notable first investment on behalf of the partnership between Bell Partners and HANSAINVEST Real Assets, as well as an excellent addition to Bell's Atlanta portfolio.  It is a well-located, high-quality, full-service community in a thriving metropolitan area with compelling demographic and economic fundamentals – exactly the strategic focus of the venture."
For Bell, the purchase of Bell Glenridge is the twelfth multifamily acquisition in 2016.  In 2015, Bell completed $1.47 billion in total apartment transactions.  In 2016, Bell completed nearly $1.3 billion in total apartment transactions.
About Bell Partners Inc.
Established in 1976, Bell Partners Inc. ("Bell Partners" or the "Company") is a privately held, vertically integrated apartment investment and management company focused on high-quality multifamily communities throughout the United States. With approximately 60,000 units under management, Bell Partners is the 13th largest apartment operator in the United States (according to The National Multi-Housing Council) and one of the largest renovators in the country. The Company has over 1,600 associates and 7 offices (including its headquarters in Greensboro, NC) and offers an extensive and full service platform containing expertise in acquisitions and dispositions, financing, property operations, accounting, risk management and all other related support functions.  Bell Partners is led by a senior management team with an average of over 20 years of experience that has invested throughout all phases of the real estate cycle and has helped the Company complete over $12 billion of apartment transactions since 2002, including nearly $1.3 billion in 2016 transactions. For more information, visit our website at www.bellpartnersinc.com.
About HANSAINVEST
HANSAINVEST Real Assets GmbH stands for long-term experience and sustainable investments in the real estate and infrastructure sector. In total, around 80 employees manage assets of about EUR 4,3 bn. In the real estate segment, the internationally positioned experts manage office, retail, hotel, logistics and residential properties in 18 countries. In addition to portfolio management, the areas of acquisitions and sales, asset management and project development are also covered. The latest product is HANSA US Residential, an open-ended special AIF focusing on US residential properties.
In the infrastructure segment, the international portfolio of infrastructure investments is managed with a volume of around EUR 700 m. Other services include the acquisition of assets and continuous portfolio management. (Data as at 30 November2016).
CONTACTS:
Kevin Thompson
Phone: 336.232.1993
Email: bkthompson@bellpartnersinc.com
Laurenn Wolpoff
Phone: 917.518.9011
Email: lwolpoff@prosek.com
Sven Hildebrandt
Phone: + 49 40 300 57-78 38
Email: sven.hildebrandt@hansainvest.de