Back To News
July 20, 2017
Bell Partners Acquires Boston Luxury Apartment Community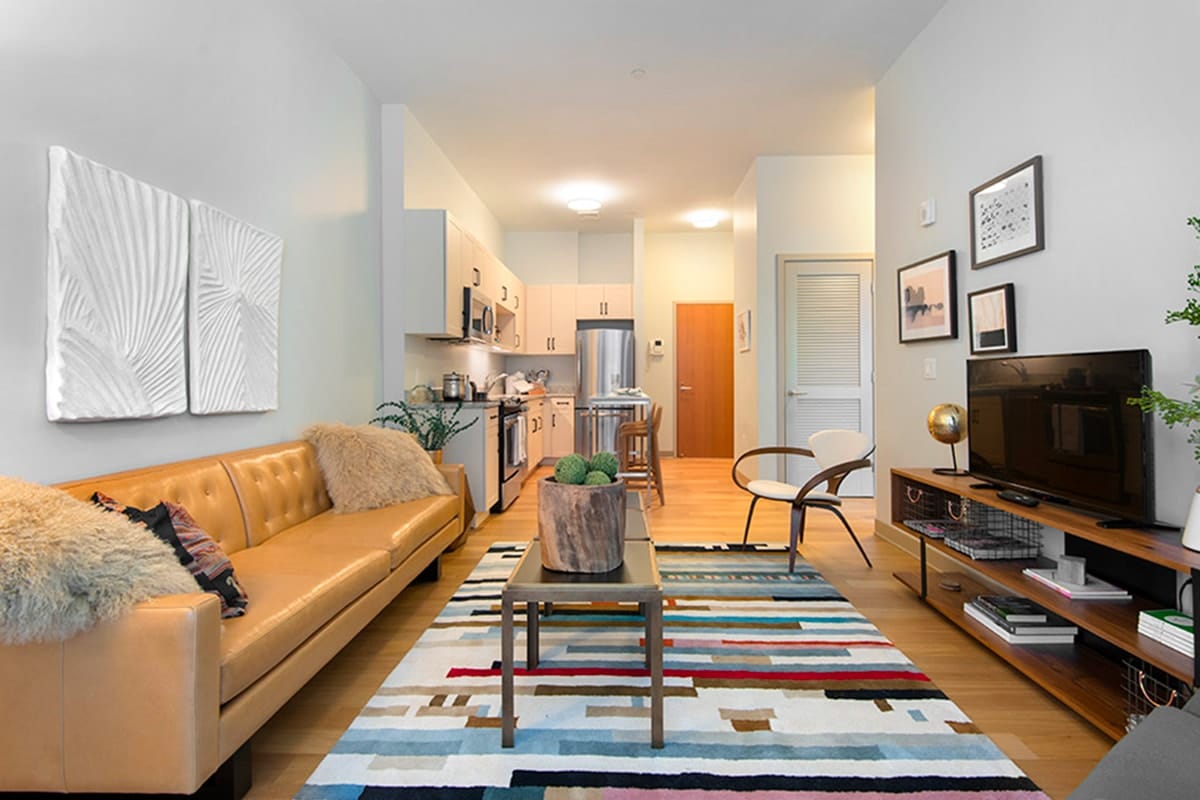 GREENSBORO, N.C. (JULY 20, 2017) — Bell Partners Inc., one of the nation's leading apartment investment and management companies, announced today that, on behalf of its investors, it has acquired Olmsted Place, a 196-unit luxury community in Boston. The terms of the transaction were not disclosed.  The community has been renamed Bell Olmsted Park and will be managed by Bell Partners.
Opened in late 2015, Bell Olmsted Park is a LEED Silver luxury community, with 196 beautifully designed apartment homes and best-in-class amenities in an ideal Boston location.  The community is comprised of a 5-story building, two elevated courtyards, and both surface and garage parking facilities.  Residents may choose from a variety of studio, one, two and three bedroom apartment home layouts, with a den or study available in select one bedroom units.  Each unit is appointed with luxury finishes, including hard wood floors, granite countertops, and stainless steel appliances in the kitchens, along with in-unit laundry facilities.
Community amenities include a modern resident lounge with a bar and audio-visual equipment.  The lounge opens onto a tree lined, resort-style heated pool.  One terrace, with stunning views of Olmsted Park, offers residents a relaxed, landscaped retreat, while the second terrace, facing the city, provides additional outdoor space.  The first-class amenities also include a state-of-the art fitness center.  In total, there are over 23,000 square feet of space devoted to resident amenities.
Bell Olmsted Park's location provides distinct advantages to its residents.  Adjacent to MBTA (Metro Boston Transit Authority) trains and buses, the community offers a convenient commute to the Longwood Medical area, Back Bay, Downtown and Cambridge.  The Longwood Medical Area is home to 24 institutions and over 50,000 scientists, physicians, staff and students, and over 75 percent of Bell Olmsted Park's residents are currently drawn from this population.  The community itself is situated in a vibrant neighborhood, with nearby dining, retail and entertainment options only steps away and Brookline Village shops just a short walk from the front door.  Residents can also take advantage of one of the most beautiful parks in New England, Olmstead Park, a part of the internationally acclaimed Emerald Necklace Park system designed by Fredrick Law Olmsted.
Nickolay Bochilo, Senior Vice President, Investments, said: "We are pleased to have acquired Bell Olmsted Park – a unique asset located in a high barrier to entry location with exceptional economic drivers within close proximity.  The combination of location and product qualities, coupled with the Bell operating capabilities, should support attractive long-term returns for our investors."
The purchase of Bell Olmsted Park is the fourth multifamily acquisition for Bell in 2017.  In 2016, Bell completed nearly $1.3 billion in total apartment transactions.  In 2015, Bell completed $1.47 billion in total apartment transactions.  To date this year, Bell has completed more than $687.8 million in total apartment transactions.
About Bell Partners Inc.
Established in 1976, Bell Partners Inc. ("Bell Partners" or the "Company") is a privately held, vertically integrated apartment investment and management company focused on high-quality multifamily communities throughout the United States. With approximately 60,000 units under management, Bell Partners is the 15th largest apartment operator in the United States (according to The National Multi-Housing Council, 2017) and one of the largest renovators in the country. The Company has more than 1,500 associates and 7 offices (including its headquarters in Greensboro, N.C.) and offers an extensive and full service platform containing expertise in acquisitions and dispositions, financing, property operations, accounting, risk management and all other related support functions. Bell Partners is led by a senior management team with an average of over 20 years of experience that has invested throughout all phases of the real estate cycle and has helped the Company complete over $12 billion of apartment transactions since 2002, including nearly $1.3 billion in 2016 transactions. For more information, visit our website at www.bellpartnersinc.com.
CONTACTS:
Kevin Thompson
Phone: 336.232.1993
Email: bkthompson@bellpartnersinc.com
Laurenn Wolpoff
Phone: 917.518.9011
Email: lwolpoff@king-consult.com