Back To News
March 20, 2016
Bell Partners Acquires Apartment Community in Durham, NC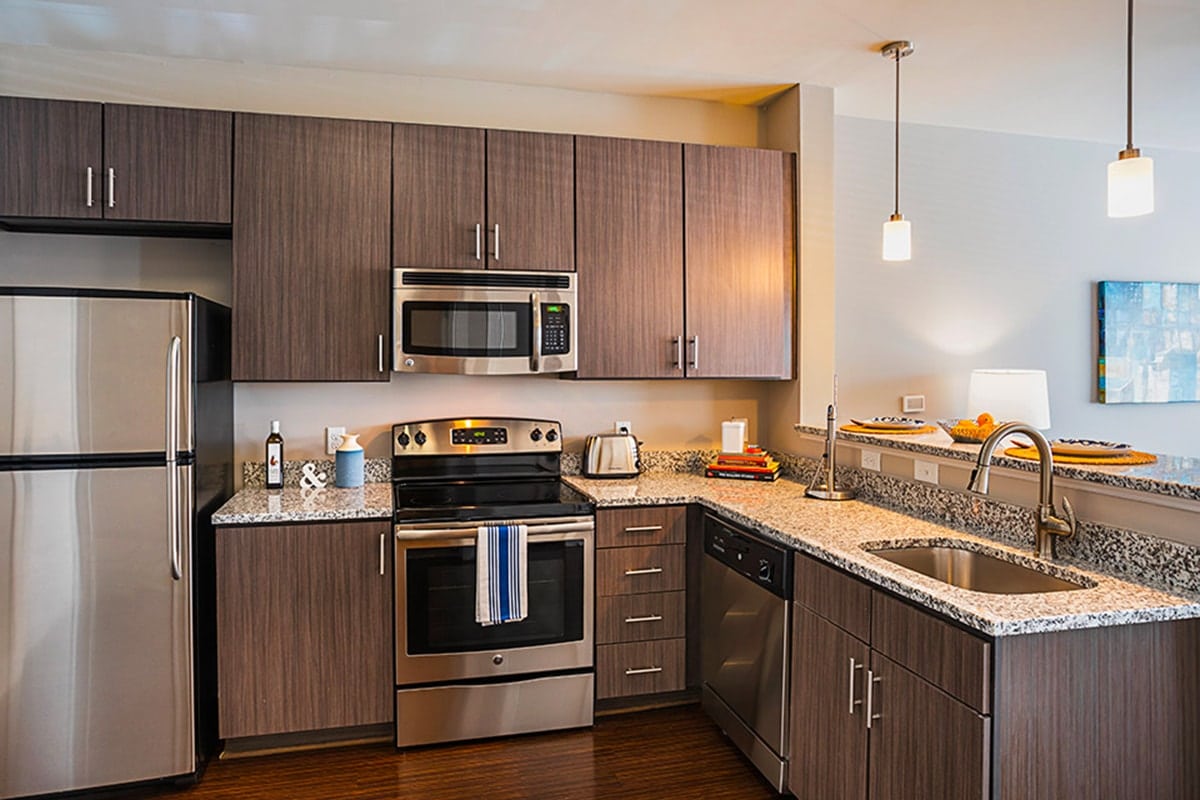 GREENSBORO, N.C. — Bell Partners Inc., one of the nation's leading apartment investment and management companies, announced today that, on behalf of its investors, it has acquired 605 West, a 340-unit apartment community in Durham, North Carolina. The community has been renamed Bell West End and will be managed by Bell Partners.
Bell West End is strategically located in an area that connects Duke University's entrance to vibrant Downtown Durham and the Triangle. The region offers an abundance of attractive and easily accessible employment and retail options, and the community itself is conveniently walkable to Brightleaf Square, the Warehouse District, Central Park, and City Center.
Bell West End was built in 2014 and is comprised of studios, 1 and 2 bedroom apartments. The upscale, conditioned corridor midrise features apartment homes with 9′ and 10′ ceilings with track LED lighting, ceiling fans, granite counters, kitchen island and breakfast bar, Energy Star stainless steel appliances, and full size washers and dryers. Units also offer separate dining areas, as well as an exterior patio/balcony, coat closets, linen closets, walk-in closets and bike storage.
Property amenities include a spacious clubhouse, well-appointed fitness center, yoga studio, numerous conference rooms and meeting nooks, and a pet park. There is also a heated saltwater pool with large screen TVs, an outdoor kitchen and lounge area, and an outdoor terrace with a fireplace.
Joseph Cannon, Senior Vice President of Investments, said: "We are pleased to add another high quality property to our established portfolio in this market. The purchase of this community represents a continuation of the Bell investment strategy in seeking opportunities that provide attractive risk adjusted returns for our investors."
The purchase of Bell West End is the third multifamily acquisition for Bell in 2016 and is the 19th apartment community in the Company's Raleigh/Durham portfolio. In 2015, Bell completed $1.47 billion in total apartment transactions.
About Bell Partners Inc.
Established in 1976, Bell Partners Inc. ("Bell Partners" or the "Company") is a privately held, vertically integrated apartment investment and management company focused on high-quality multifamily communities throughout the United States. With over 60,000 units under management, Bell Partners is the 11th largest apartment operator and 7th largest apartment renovator in the United States (according to The National Multi-Housing Council and MultiFamily Executive Magazine, respectively). The Company has over 1,600 associates and 7 offices (including its headquarters in Greensboro, NC) and offers an extensive and full service operating platform containing expertise in acquisitions and dispositions, financing, property operations, accounting, risk management and all other related support functions. Bell Partners is led by a senior management team with an average of over 20 years of experience that has invested throughout all phases of the real estate cycle and has helped the Company complete over $10 billion of apartment transactions since 2002, including $670 million of acquisitions and $800 million of dispositions in 2015. For more information, visit our website at www.bellpartnersinc.com.
CONTACTS:
Kevin Thompson
Phone: 336.232.1993
Email: bkthompson@bellpartnersinc.com
Laurenn Wolpoff
Phone: 917.518.9011
Email: lwolpoff@prosek.com