Back To News
March 30, 2016
Bell Partners Acquires Apartment Community in Dallas, TX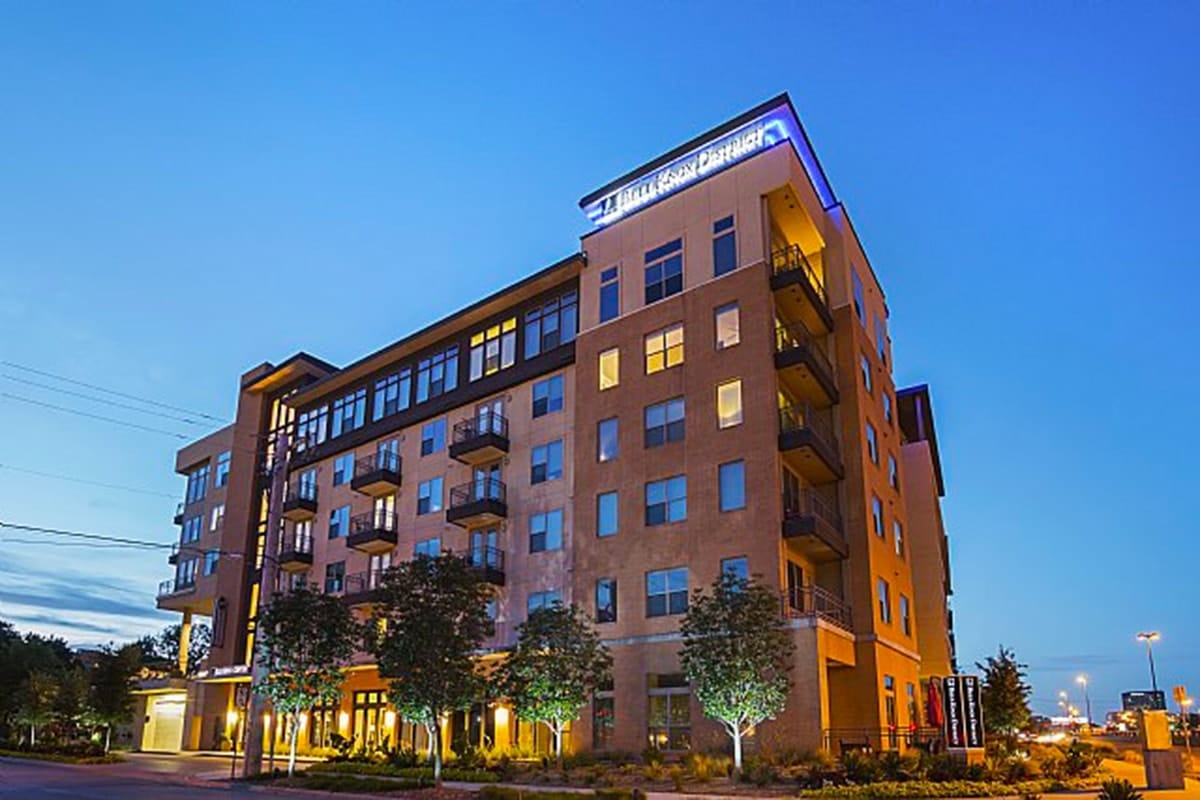 GREENSBORO, N.C. — Bell Partners Inc., one of the nation's leading apartment investment and management companies, announced today that, on behalf of its investors, it has acquired of Avenue H, a recently completed 208-unit community located in the Knox-Henderson area of Dallas, Texas. The community has been renamed Bell Knox District and will be managed by Bell Partners.
Completed in 2015, Bell Knox District is a trophy Class "AA" community and the first to be built in the last ten years in the prestigious Knox / Highland Park neighborhood of Dallas. The property is nearing the end of lease-up, and it is currently 82% occupied. Bell Knox District borders the most expensive homes and office/retail space in the market. The property offers residents immediate access to some of the most desirable lifestyle and employment centers in the city.
The community is comprised of 208 apartment homes located in one, six-story podium-style building above two levels of structured parking. Floor plans consist of a mix of studios, 1 bed/1 bath and 2 beds/2 baths. Some apartments have an additional study. Interior apartments feature 9′ to 12′ ceiling heights, custom wood kitchen cabinets, granite countertops, stainless steel appliances, pendant lighting, wood-style plank flooring, and washer/dryers.
Property amenities include a clubhouse with conference center and coffee bar, urban oasis pool deck, high-tech fitness studio, outdoor barbeque area with grills, elevator access, and covered parking. The community's location offers the ease of walkability to the Knox-Henderson entertainment district and the Katy Trail, one of Dallas' most popular landmarks. Residents can enjoy this privately-managed public jogging, walking, and biking path that runs 3.5 miles through Uptown, all the way to Victory Park.
Nickolay Bochilo, Senior Vice President of Investments, said: "We are pleased to add this trophy property to our growing Texas portfolio. The Knox area of Dallas is considered a "forever good" location, yet it has lacked modern housing options for many years. We anticipate the area to transform significantly in the years ahead to a premier residential destination, which will be complemented by the presence of boutique retailers, a soon-to-open Trader Joe's and local chef driven restaurants. This trend should enhance the value of our property and its neighbors."
The purchase of Bell Knox District is the fourth multifamily acquisition for Bell in 2016, and the Company's 31st property in Texas. In February, Bell expanded its Texas footprint with the acquisition of Bell Four Points in Austin, TX. In 2015, Bell completed $1.47 billion in total apartment transactions.
About Bell Partners Inc.
Established in 1976, Bell Partners Inc. ("Bell Partners" or the "Company") is a privately held, vertically integrated apartment investment and management company focused on high-quality multifamily communities throughout the United States. With over 60,000 units under management, Bell Partners is the 11th largest apartment operator and 7th largest apartment renovator in the United States (according to The National Multi-Housing Council and MultiFamily Executive Magazine, respectively). The Company has over 1,600 associates and 7 offices (including its headquarters in Greensboro, NC) and offers an extensive and full service operating platform containing expertise in acquisitions and dispositions, financing, property operations, accounting, risk management and all other related support functions. Bell Partners is led by a senior management team with an average of over 20 years of experience that has invested throughout all phases of the real estate cycle and has helped the Company complete over $10 billion of apartment transactions since 2002, including $670 million of acquisitions and $800 million of dispositions in 2015. For more information, visit our website at www.bellpartnersinc.com.
CONTACTS:
Kevin Thompson
Phone: 336.232.1993
Email: bkthompson@bellpartnersinc.com
Laurenn Wolpoff
Phone: 917.518.9011
Email: lwolpoff@prosek.com