Back To News
January 27, 2016
Bell Partners Acquires Apartment Community in Boca Raton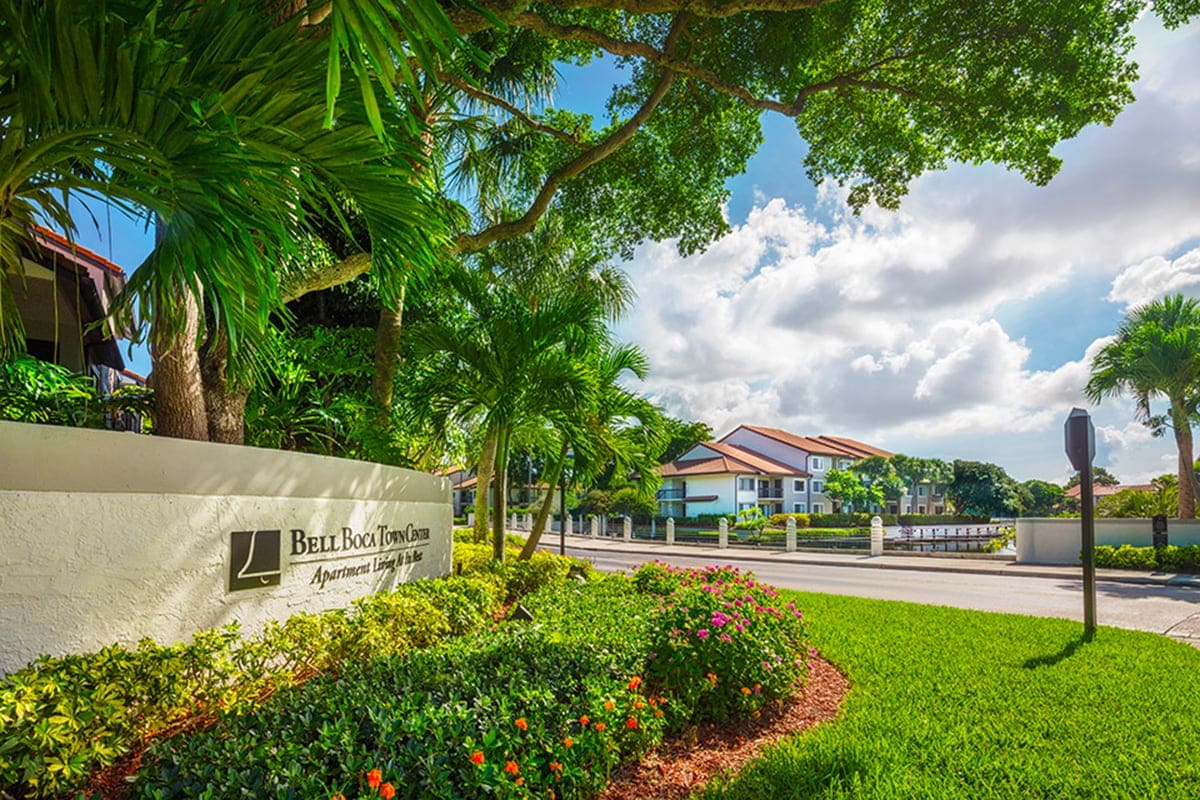 GREENSBORO, N.C. — Bell Partners Inc., one of the nation's leading apartment investment and management companies, announced today that, on behalf of its investors, it has acquired Archstone Boca Town Center, a garden-style apartment community in Boca Raton, Florida. The community has been renamed Bell Boca Town Center and will be managed by Bell Partners.
Bell Boca Town Center is centrally located in Boca Raton, one of the most desirable cities in Florida. It has been over 96 percent occupied for the past year. The community is comprised of 252 apartment homes and features 1, 2 and 3 bedroom floorplans. Units feature stainless steel appliances, microwaves, glass-top stoves, breakfast bars, dark espresso finish kitchen cabinetry, large walk-in closets, washers and dryers and a private balconies or patios.
Property amenities include a beautifully landscaped, low density setting with an on-site leasing office and clubhouse, a state-of-the-art fitness center and two tennis courts. There is also a resort-style pool, a grilling area and Wi-Fi access in the common spaces. The community's location, directly adjacent to Town Center Mall, provides residents with numerous retail and entertainment venues.
Joseph Cannon, Senior Vice President of Investments, said: "We are pleased to add another high quality asset to our southeast Florida portfolio. The property offers convenient access to business hubs, retail amenities, upscale neighborhoods and major transportation arterials. We see an opportunity to enhance the property's appeal and performance by improving operations and making upgrades to the apartment homes and amenity areas."
The purchase of Bell Boca Town Center is the first multifamily acquisition for Bell in 2016. In 2015, Bell completed $1.47 billion in total apartment transactions.
About Bell Partners Inc.
Established in 1976, Bell Partners Inc. ("Bell Partners" or the "Company") is a privately held, vertically integrated apartment investment and management company focused on high-quality multifamily communities throughout the United States. With over 60,000 units under management, Bell Partners is the 11th largest apartment operator and 7th largest apartment renovator in the United States (according to The National Multi-Housing Council and MultiFamily Executive Magazine, respectively). The Company has over 1,600 associates and 7 offices (including its headquarters in Greensboro, NC) and offers an extensive and full service operating platform containing expertise in acquisitions and dispositions, financing, property operations, accounting, risk management and all other related support functions. Bell Partners is led by a senior management team with an average of over 20 years of experience that has invested throughout all phases of the real estate cycle and has helped the Company complete over $10 billion of apartment transactions since 2002, including $670 million of acquisitions and $800 million of dispositions in 2015. For more information, visit our website at www.bellpartnersinc.com.
CONTACTS:
Kevin Thompson
Phone: 336.232.1993
Email: bkthompson@bellpartnersinc.com
Laurenn Wolpoff
Phone: 917.518.9011
Email: lwolpoff@prosek.com