Back To News
February 4, 2015
Bell Partners Acquires Apartment Community in Austin (TX) Metro Area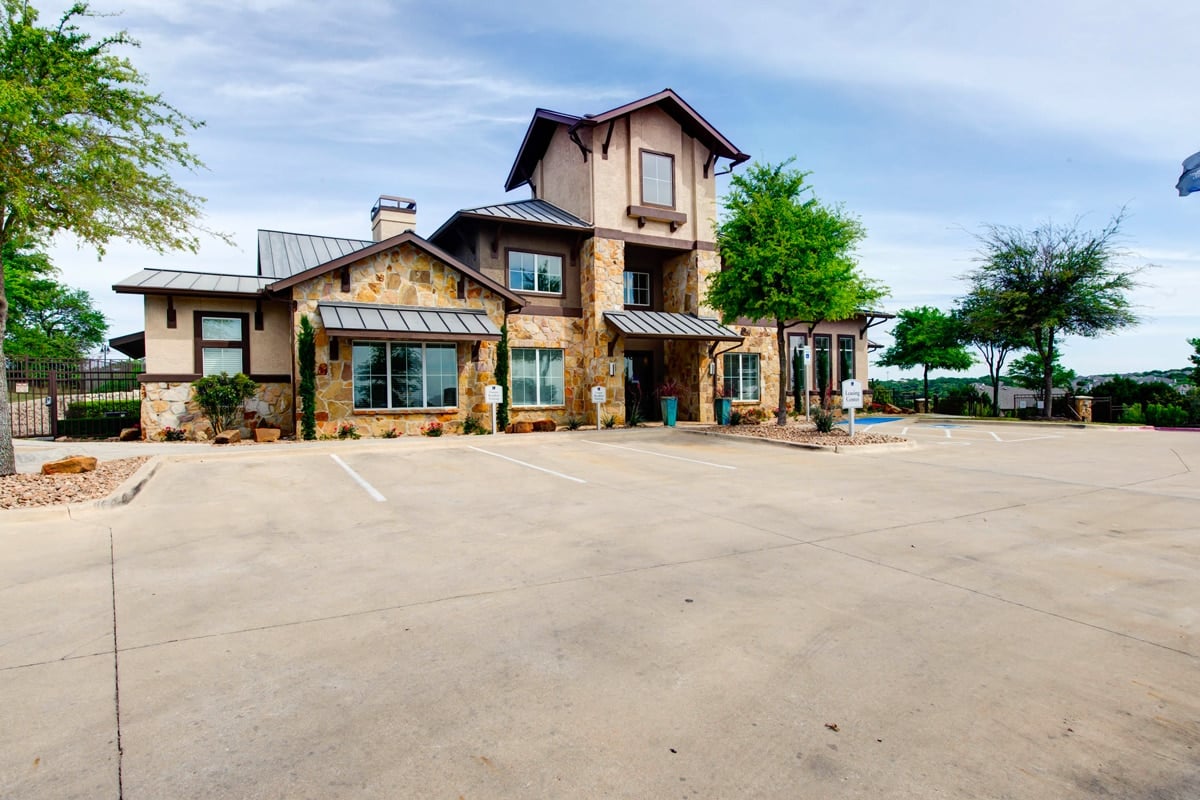 Greensboro, NC — Bell Partners Inc., one of the nation's leading apartment investment and management companies, announced today that, on behalf of its investors, it has acquired Estancia Apartments, a 276-unit garden-style community in southwest Austin, Texas. The community has been renamed Bell Hill Country and will be managed by Bell Partners.
Completed in 2009, the property is located in an upscale area, nearby affluent neighborhoods with some of the highest single-family home values in the region. Situated on an elevated 45-acre site, Bell Hill Country offers panoramic 360 degree views and is only ten (10) miles from Austin's central business district, providing residents with easy access to the city's employment hub and its varied retail and lifestyle venues.
The community consists of twelve (12) three-story buildings, comprised of a mix of one-bedroom, two-bedroom, and three-bedroom floor plans (eight plans in total). Unit interiors feature 9′ ceiling heights (vaulted on the top floors), GE black appliances, laminate countertops, tile backsplash, wood finish cabinets with brushed nickel hardware, double stainless steel sinks, full size washers/dryers, private patios or balconies, and vinyl plank flooring in some units.
Property amenities include a stand-alone clubhouse with sweeping views of downtown Austin and the Hill Country. The clubhouse offers residents the use of a Bistro Kitchen, billiards, a hilltop resort-style pool, an outdoor kitchen with gas grills, a WiFi lounge and business center, and a clothes care center. There is covered parking for most units.
Nickolay Bochilo, Senior Vice President of Investments, said, "We are pleased to add this property to our portfolio. The acquisition of Bell Hill Country is on target with our investment strategy of acquiring high quality properties in attractive locations that have strong barriers to entry and solid revenue fundamentals."
In 2014, Bell completed more than $2.6 billion in apartment transactions.
About Bell Partners Inc.
Established in 1976, Bell Partners Inc. ("Bell Partners" or the "Company") is a privately held, vertically integrated apartment investment and management company focused on high-quality multifamily communities across the East Coast and Southwest United States. With nearly 70,000 units under management, Bell Partners is the 12th largest apartment operator and 7th largest apartment renovator in the United States (according to The National Multi-Housing Council). The Company has over 1,500 employees and 9 offices (including its headquarters in Greensboro, NC) and offers an extensive and full service operating platform containing expertise in acquisitions and dispositions, financing, property operations, accounting, risk management and all other related support functions. The Company has completed nearly $9 billion of apartment transactions since 2002, including over $2.6 billion in 2014. Additional information about Bell can be found on the company's website at www.BellPartnersInc.com.
CONTACTS:
Kevin Thompson
Phone: 336.232.1993
Email: bkthompson@bellpartnersinc.com
Laurenn Wolpoff
Phone: 917.518.9011
Email: lwolpoff@prosek.com